With a head office in Wagga Wagga, NSW, we're a team of approximately 70 people spread across Australia's metropolitan, rural and regional areas working collaboratively to improve the profitability, productivity, competitiveness and sustainability of our rural industries.
We know that delivering results starts with listening to our industries and understanding their needs. Together we prioritise investment opportunities, interpret results, understand implications and test the outcomes on farms to create tangible value for our levy payers.
We're committed to attracting the best people we can to help us achieve our purpose. We offer a diverse range of agricultural jobs in research, communications, events management, program management, finance, human resources, IT and administration. You'll get a chance to work with a team of passionate people in an environment which values professional development and growth, committed to the principles of equal employment opportunities. We share a passionate commitment to our values: we are connected, positive, real and future thinking.
If you are passionate about the agricultural sector, and the people who drive our rural industries, we welcome your application. Please see our latest AgriFutures Australia job vacancies below and direct any enquires to the contact listed in the advertisement.
Current opportunities
Coordinator, growᴬᴳ⋅
You'll play a crucial role in data management, reporting, website maintenance, event support, and project coordination. We're seeking an individual with a keen eye for detail, exceptional communication and customer service skills, and the ability to collaborate effectively with various stakeholders. To succeed in this role, you'll also need a passion for innovation and entrepreneurship in the agricultural sector.
Click here to find out more & apply
Executive Service Coordinator
This role offers diversity, working across two sectors – the General Managers (GM's) of Global Innovation Networks, and Workforce Communications and Adoption. Responsible for supporting and coordinating the GMs' activities, your role involves organising travel arrangements, preparing high-level and accurate documents, managing events, calendars and diaries, and handling finances and correspondence.
Click here to find out more & apply
Manager, Customer Relationships
In this role, you will cultivate and sustain connections within Australia's agrifood tech sector through the online platform growᴬᴳ⋅ by managing contributors, facilitating new listings, ensuring data accuracy and driving engagement. The role focuses on stakeholder liaison, project management, and supporting a sustainable business model. The ideal candidate has strong communication and project management skills.
Click here to find out more & apply
Manager, Digital and Communications
In this role, you will oversee the digital platform, marketing, and brand management for growᴬᴳ⋅ – Australia's agrifood tech innovation hub. Responsibilities include expanding the platform globally, managing projects for user enhancements, developing strategic relationships, and ensuring effective reporting. The role requires expertise in digital marketing, project management, and relationship building, along with proficiency in design and analytics tools.
Click to find out more & apply
Manager, Emerging Industries
In this role, you will initiate, develop, and manage programs to help establish emerging industries. You will partner with these industries to assist them grow, have impact and develop as credible industries. You are accountable to manage the whole project life cycle across the emerging industries in your portfolio. The role has a mix of key stakeholder relationship management, project and budget management and engaging with the sector at an intimate level to understand their market opportunity and potential RD&E investment strategy.
Click here to find out more & apply
Senior Manager, Digital Product & Marketing
As the Senior Manager, Digital Product and Marketing for growᴬᴳ⋅, you'll spearhead the strategic growth of the digital platform, ensuring a top-tier user experience and compliance with global standards. Your role encompasses website management, digital marketing, partnerships and budget oversight, all vital in expanding growᴬᴳ⋅'s reach and impact.
Our values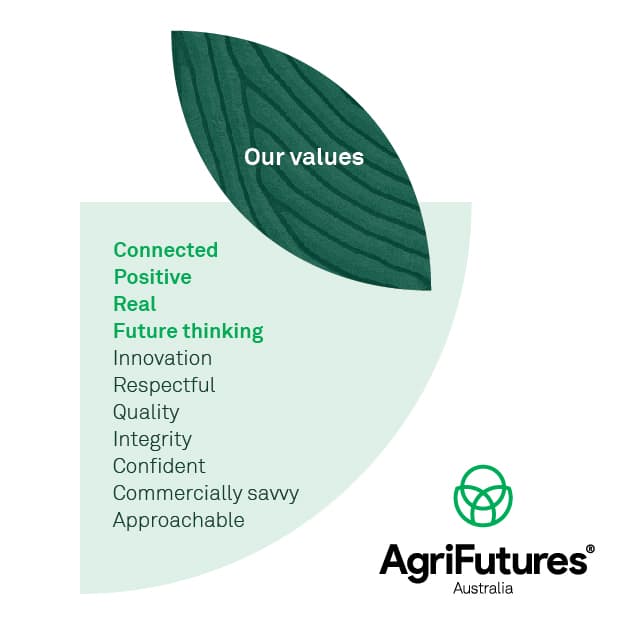 Enterprise Agreement
In February 2022, we renewed the organisations' Enterprise Agreement 2022-25, which sets out the terms and conditions of employment. Executive staff (including the Managing Director) are employed on individual contracts.
To view our Enterprise Agreement, please click here.