Innovative Equine Entrepreneur Takes Home Top Honour: 2023 TAS AgriFutures Rural Women's Award Winner announced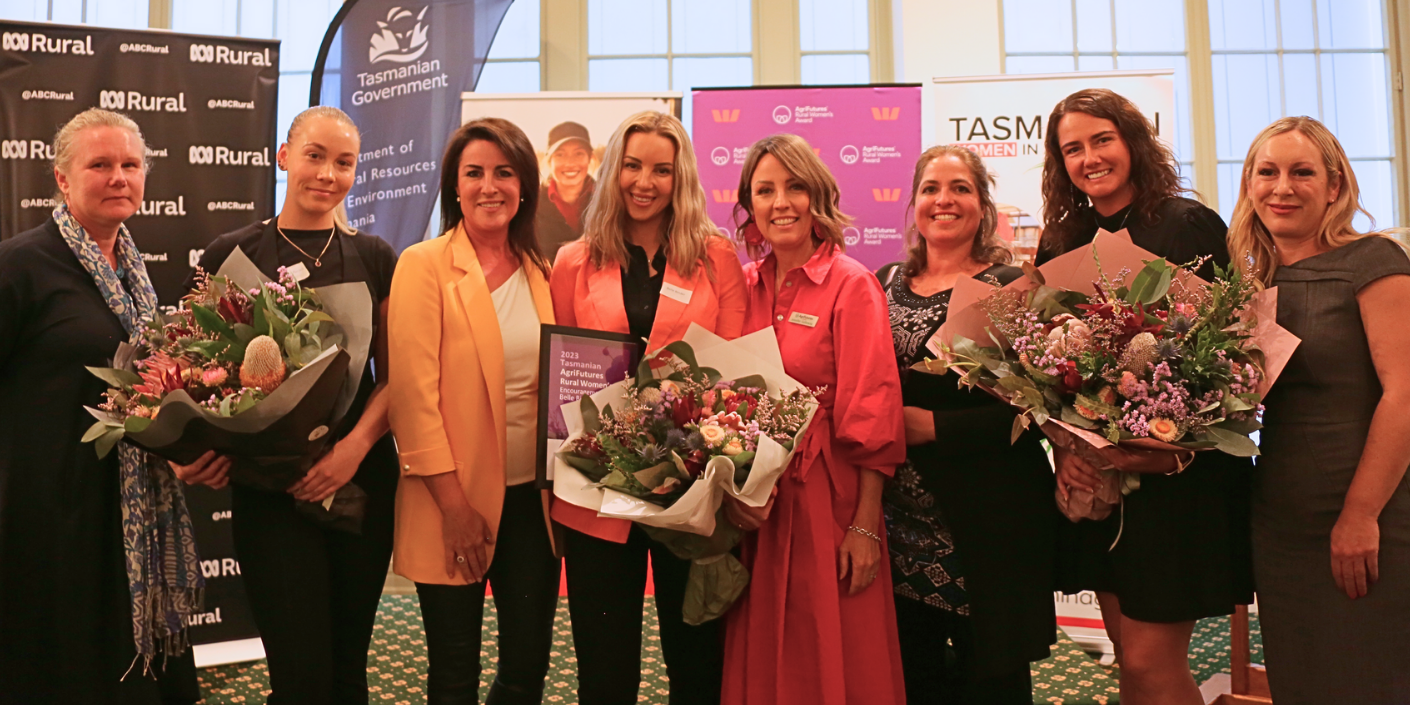 Sisters Creek businesswoman, Melissa Duniam has been awarded the 2023 Tasmanian AgriFutures Rural Women's Award for her trail-blazing approach to professional developments for managers, leaders and communicators.
The prestigious Award was presented at a ceremony in Hobart by Jo Palmer, Minister for Women, Prevention of Family Violence, Disability Services and Primary Industries and Water.
The AgriFutures Rural Women's Award, supported by long-term platinum sponsor Westpac, is Australia's leading Award in acknowledging and supporting the critical role women play in rural and regional businesses, industries and communities. It is an opportunity to celebrate the forward thinking, courageous leaders who come from industries that represent some of the remote areas of Tasmania.
Ms Duniam, founder of Leading Rein, was selected for her work in equine-assisted learning and her creative ability to apply both human and horse herd dynamics to empower people and teams. Although her students are not there to ride the horses, the learning process removes language and allows the participants to work out how to connect and communicate successfully with body language alone.
As part of the AgriFutures Rural Women's Award, Ms Duniam receives a $15,000 grant from Westpac to further support her project as well as the opportunity to undertake a professional development course of her choosing. Ms Duniam will go on to represent Tasmania at the AgriFutures Rural Women's Award Gala Dinner and National Announcement in Canberra later in the year where the National Winner will be awarded an additional $20,000 Westpac grant and the National Runner Up, an additional $15,000.
"I feel very honoured to receive the TAS AgriFutures Rural Women's Award, which will help generate awareness of Leading Reins unique offering and allow me to continue to grow both personally and professionally. I look forward to giving back our region and Tasmania", said Ms Duniam.
Minister for Women, Prevention of Family Violence, Disability Services and Primary Industries and Water, Jo Palmer commended Ms Duniam and fellow finalists Kitana Mansell, Belle Binder and Tamar Cordover for their brilliant work and ongoing contribution to rural and regional communities in Tasmania.
"Ms Duniam is an experienced businesswoman with a deep understanding of the value and effects of communication, relationships and dynamics in the workplace," Minister Palmer said.
"With more than 20 years' experience in the dairy and agriculture industries, Ms Duniam is passionate about developing people and communities." she said.
All four women will now join a 300-strong alumni that advocates for women in regional and rural Australia and provides a network to support their future endeavours.
AgriFutures Managing Director, John Harvey hopes Ms Duniam's achievements will inspire other determined and forward thinking female leaders working in rural, regional and remote communities across Tasmania for years to come.
"The AgriFutures Rural Women's Award provides these women a platform to build on their leadership skills to drive change in rural and regional Australia.", Mr Harvey explained.
"It's exciting to see Melissa already making such a positive influence in her industry and community," he said.
Supporting these sentiments, Westpac's Regional Manager for Tasmania Dave Milner said the award is an opportunity to shine a light on the outstanding women making an impact
in their industry and communities.
"Our rural communities are home to many accomplished women whose innovative thinking and passion for their sector is creating positive opportunities in business and their local area. The Rural Women's Award is an important platform that helps to showcase inspiring talent so that future generations of women can continue to have new opportunities to play an important role in their industry or community – which is why Westpac Agribusiness is a committed supporter of these highly respected awards," said Mr Milner.
The award is proudly supported by the Tasmanian Government through the Department of Natural Resources and Environment Tasmania, Tasmanian Women in Agriculture, Westpac, ABC Rural, Australian Community Media and OUTBACK Magazine in conjunction with AgriFutures Australia and Westpac.
ENDS
Photo:
L to R: Chris Bishop (Vice Chair Tas Women in Ag), Kitana Mansell (Development Award), Minister Jo Palmer, Belle Binder (Encouragement Award), Jen Galloway (AgriFutures), Tamar Cordover (Development Award), Melissa Duniam (Winner), Lynetta Bennett (Westpac).