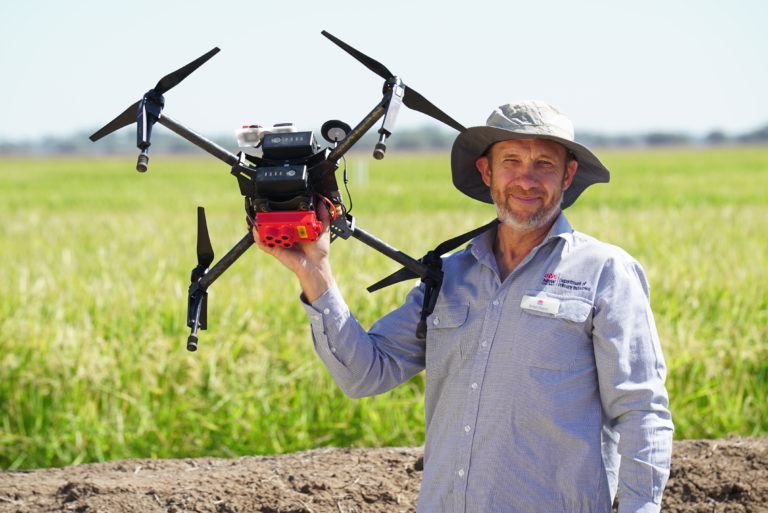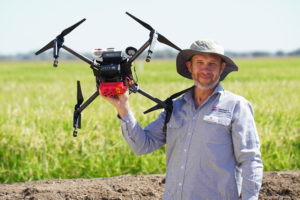 Why is this research project important?
Nitrogen is a very important nutrient for maximising rice grain yield and quality. Too little nitrogen results in low yield and quality while excess nitrogen can often lead to reduced yield due to increased cold induced sterility and lodging.
This research project is developing a protocol to deliver a red edge image and a nitrogen topdressing recommendation map of each rice crop at panicle initiation (PI). The maps will be delivered to growers and agronomists through the SunRice GIS (MapRice) with no or reduced physical sampling of the crop required.
The imagery allows growers to map crop nitrogen variability across the field. Variability that has been induced through grower practice is also easily identified, especially uneven applications of nitrogen and the impact of landforming cut and fill practices. Using this information growers can vary the rate of their nitrogen applications as required to maximise grain yield for all areas of the field. This is vitally important for increased profitability and water productivity.
Why did you get involved in the project?
I was involved in the delivery of the PI Nitrogen Tissue Test service to growers which involved physical sampling of the crop to determine PI nitrogen topdressing requirements and we could see a gradual decline in its use by growers and agronomists. It became obvious that a system utilising remotely sensed images which covered the variability in the field and which didn't rely heavily on physical sampling of the crop, was required. The rice industry wanted to know more so we started investigating all sources of remotely sensed data to find a suitable commercial platform for the prediction of rice nitrogen at panicle initiation.