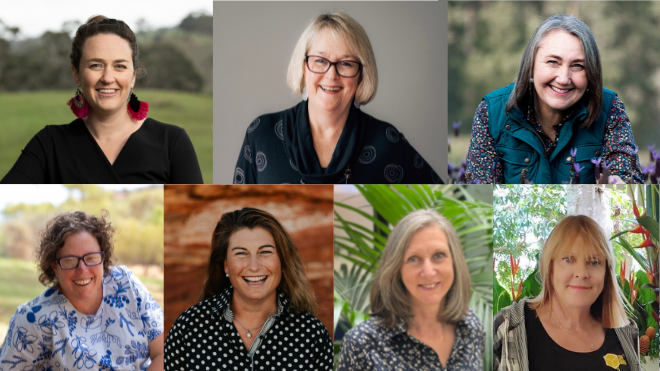 Ann Ross (QLD), Catherine Marriott (VIC), Donna Digby (NT), Jeanette Long (SA), Jo Palmer (NSW/ACT), Karen Brock (TAS) and Lucy Anderton (WA) will form the Committee.
This exciting new committee was one of the outcomes of working alongside the Rural Women's Award Alumni Advisory Panel to review data, listen, explore, unpack, and reinvigorate the very important Rural Women's Award Program.
It was decided that the Committee of State Chairs would replace the Alumni Advisory Panel, with one Chair in each state or territory to champion the Award, grow the profile of the Award and create connections and opportunities for all Alumni.
Each of the State Chairs who have been selected are adaptive and collaborative, and are looking forward to building cohesion within their own state or territory and driving collaboration and information sharing between other states and territories. Each of the women will also be responsible for pulling together their own small State Committee, made up of Alumni volunteers. So, if you are a member of the Rural Women's Award Alumni and would like to be involved, email us at rwa@agrifutures.com.au and we can put you in touch with your respective State Chair.
Jeanette Long – SA State Chair
Jeanette Long is a passionate advocate for rural women. Based in SA she farms with her husband, Bill, and son, Will, on Eyre Peninsula and in the Mid North. She works as a facilitator, trainer and coach across Australia and New Zealand, influencing positive change in agriculture as well as working with rural women's groups. This has included co-facilitating the SA PIRSA funded Stepping into Leadership program for the last nine years.
Jo Palmer – NSW/ACT State Chair
Jo is the Founder and Managing Director of Pointer Remote, a company that supports communities, businesses and individuals to leverage remote work to grow, through recruitment and training. She is particularly passionate about how remote work is an economic development tool to attract and retain populations in the regions. Pointer Remote runs training programs that support business owners to make remote and flexible work actually work in an organisation, as well as supporting team members to be the most effective and efficient remote worker possible.
Her recognition includes 2019 AgriFutures Rural Women's Award National Winner, 2018 Crow Awards Startup Superstar and Young Entrepreneur Awards, 2017 Soar Awards Regional Contribution winner and 2017 Finalist in the Regional Australia Institute's Lightbulb Moments and Regional Online Heroes competitions.
Ann Ross – QLD State Chair
Ann has a background in start-ups with a focus on emerging industries and is a regionally renowned bee keeper based on the Sunshine Coast, QLD. Her company Hive Haven specialises in the manufacture of award-winning native bee boxes and the production of Australian stingless bee honey and pollinator seed mixes.