Fast tracking the next generation of thoroughbred horse breeders
A world-class program is helping to secure the future of the thoroughbred breeding industry by equipping the next generation of workers for an exciting and rewarding career. 
The Fast Track program, run by Thoroughbred Breeders Australia and supported by AgriFutures Australia, sees industry, government and the tertiary education sector collaborating to build the workforce in the thoroughbred industry. The program connects participants with a 12-month traineeship on a stud farm, mixing on-the-job training with formal study to accelerate the flow of new talent to the breeding industry.
Last year, AgriFutures Australia supported two Fast Track placements, connecting two young professionals with leading Australian thoroughbred studs. 
Originally from Murray Bridge in South Australia, Fast Track cadet Abi Wheatland always saw herself chasing a career with horses but didn't know the right career pathway. After seeing the Fast Track Program online, she applied and was accepted into the program, securing a role as a stud groom at Cornerstone in the Barossa Valley. 
Experience with her own show horses meant Abi arrived with horse handling skills, but the program soon opened her eyes to the scale of thoroughbred breeding and the opportunities for young talent. 
"The first month of my placement was a highlight – spending a month in the Hunter Valley, getting to see Coolmore and Godolphin Studs, and listening to talks from industry leaders," she said. 
"We also did formal learning that is contributing to a Certificate III in Horse Breeding, along with practical courses in first aid, defensive driving, and operating quadbikes and trailers," she added.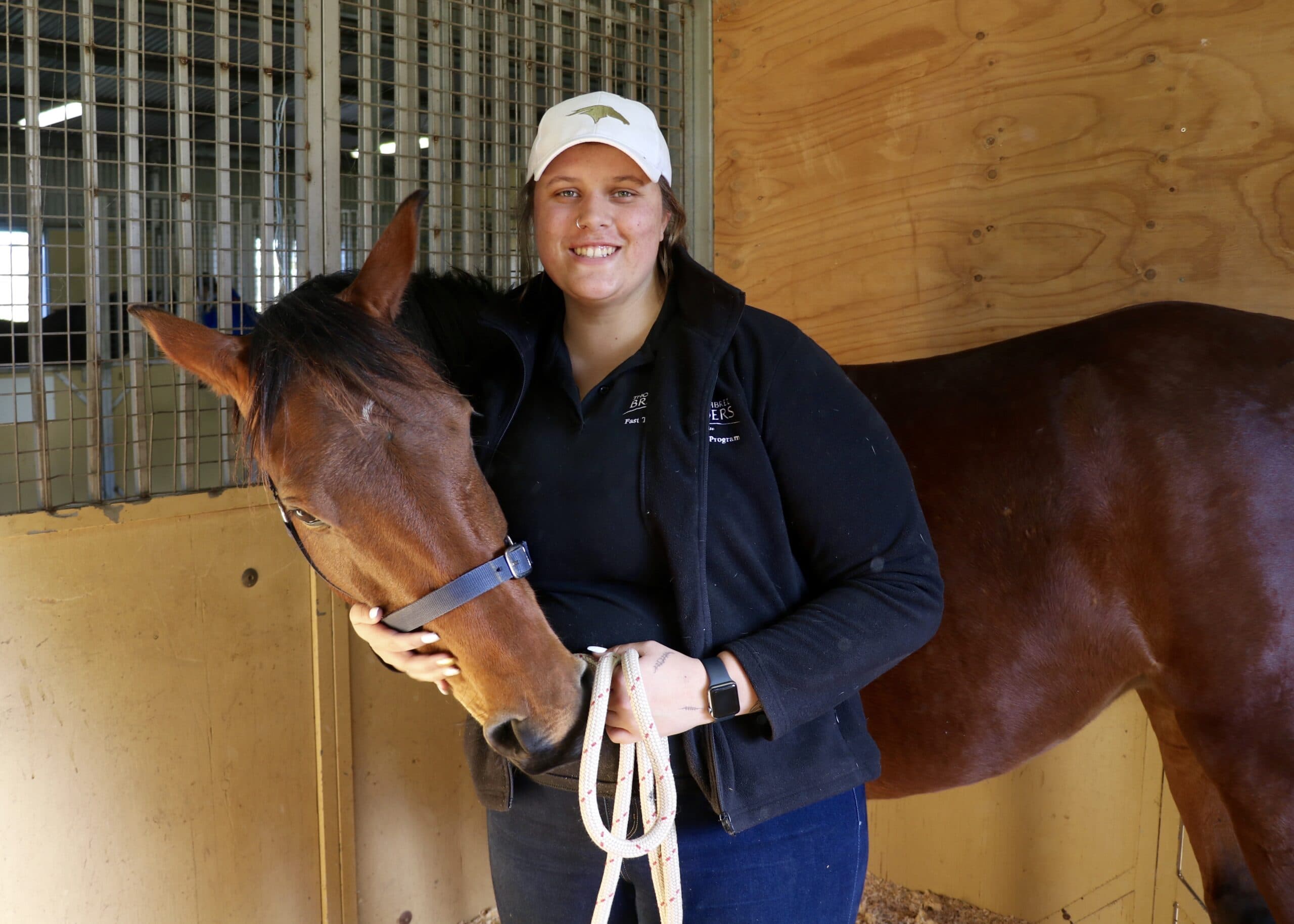 Taking the horse by the reins – Fast Track addressing labour shortages 
For many studs, the scarcity of skilled labour has created a real issue over the last few years, putting the sustainability and productivity of an industry worth $1.16 billion annually to the Australian economy. 
"Like all farming businesses, Australian thoroughbred stud farms have faced labour shortages. Instead of complaining about it, the industry said people love horses, people love racing and the opportunities in thoroughbred breeding and racing are tremendous, so if we can expose newcomers to it, then they'll stay in it for life," said Tom Reilly, CEO of Thoroughbred Breeders Australia. 
"We created a program specifically for our industry that combines theory and classroom learning with hands-on experience. Our Fast Track program works because stud farms all over Australia see the value in educating newcomers to the industry." 
Eureka Stud Principal Scott McAlpine said that Fast Track is helping to fill the staffing shortage while also providing the right mix of on-the-job training and formal studies to give cadets the best start to their career. 
"Fast Track is something the industry needs. When the trainees go to TAFE as well as working on the farm, it increases their interest in the industry. They are required to do physical work on the farm but they also need to go to TAFE to learn the reasoning behind why we do things a certain way," he said.  
"If they want to make a career out of it, they need the technical information and that's why TAFE is important."  
From the horse's mouth 
Joining the Eureka team through a Fast Track placement, Madeleine St Ledger is one of a new crop of passionate professionals using the experience to find her own industry pathway. 
"Thoroughbred breeding is such a huge industry and there are so many career avenues within it – from administration to gardening and bloodstock management," she said. 
Maddy graduated from a 12-month placement at Eureka this year and speaks highly of the opportunities the Fast Track program offers to those looking for a career start with horses. 
"I would like to stay at Eureka for a bit longer – they are very good at teaching and training. I'd like to explore the bloodstock or broodmare management side of the business but I'm currently considering all avenues within the industry". 
Keen to promote Fast Track to others, Maddy said that the program provided an essential foundation for anyone considering a career with horses. 
"It doesn't really matter where you come from as long as you have the drive to work with horses. Through a whole season on a stud, you learn so much from very knowledgeable people,"  
"100% I would recommend signing up for Fast Track and give it your best. It's an amazing opportunity." 
Maddy and Abi graduated from the Fast Track program in June this year. 
The 2022 Fast Track intake commenced in May this year, with the successful applicants already completing their first intensive learning block in the Hunter region and now at their on-farm placements.  
AgriFutures Capacity Building Program is proudly sponsoring seven inter-state trainee positions this year in South Australia, Queensland, and Victoria.  
For more information about the Fast Track program visit, https://www.tbaus.com/fast-track-program/about-the-fast-track-program/