Listen up! Young people's perspective on the future of rural industries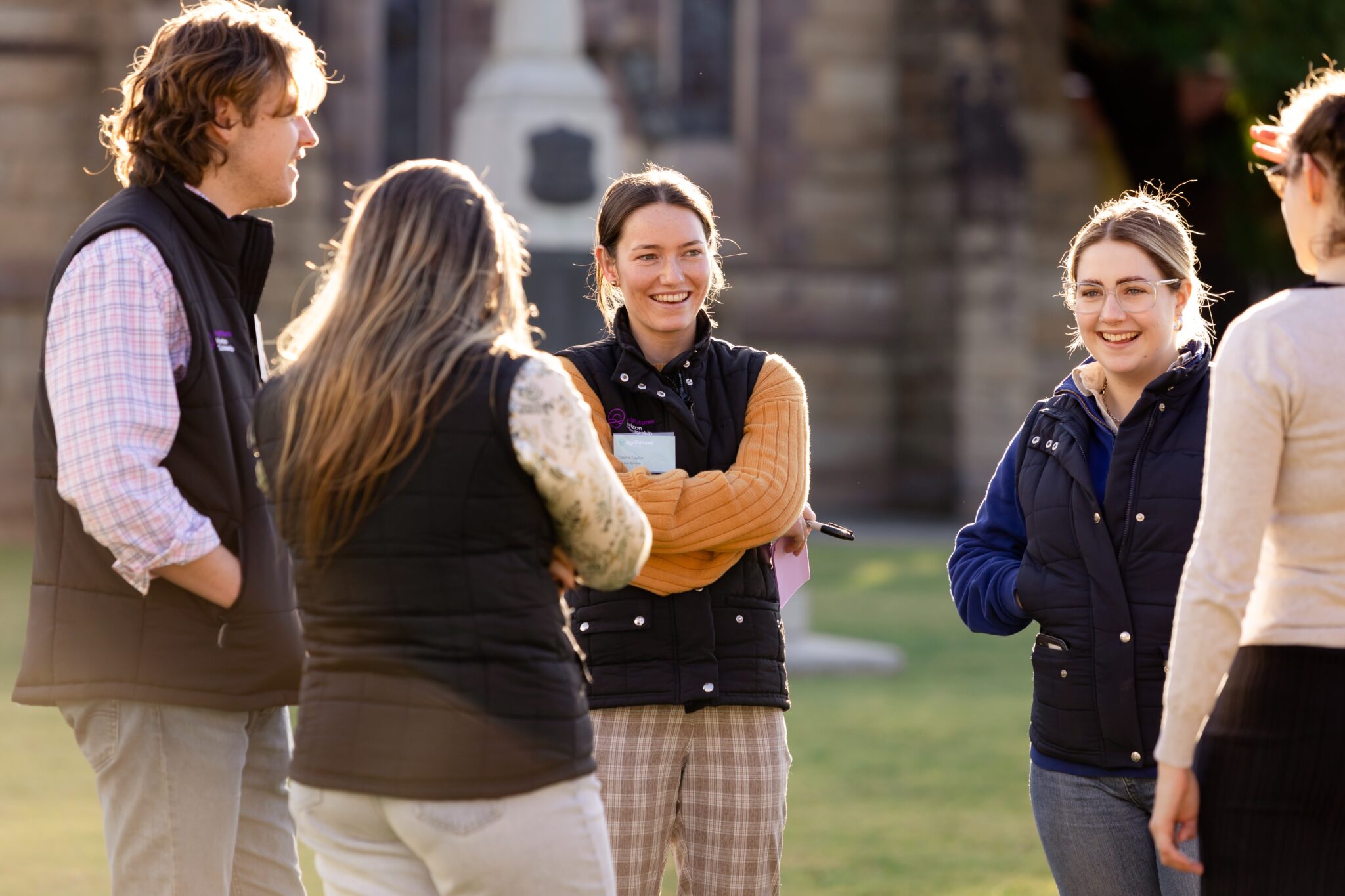 AgriFutures Australia is proud to announce the release of its latest report: "Listen up: Young people's perspective on the future of Australian agriculture and rural industries" – a compilation of thought-provoking perspectives and provocations from the future leaders of the agriculture sector.
With extensive global challenges facing agricultural and rural industries today, including climate change, economic uncertainty, technological disruption, and evolving consumer preferences, industry leaders must engage the next generation of agricultural frontrunners.
The report highlights the crucial role that young people play in shaping the future of Australian agriculture and emphasises the need for industry and government to invest in, listen to and collaborate with this vital demographic.
The report was compiled as a comprehensive summary of the conversations and collaborative efforts that emerged from the 2022 AgriFutures Horizon Scholarship Workshop in Albury, as part of the AgriFutures Stakeholder Summit.
Over forty Horizon Scholars attended the workshop and created a set of priorities outlined in the report to help industry navigate these challenges and create a sustainable and prosperous future for the industry.
Horizon Scholar, Jenna Wright contributed to the report and said the Horizon Scholars are committed to Australia's food and fibre future.
"We all care about strengthening the industry, driving change, and including more unique voices. We care about ensuring the success of all industry areas, because we all have a passion for Australian agriculture as a whole," said Jenna.
According to Abbey O'Callaghan, Manager, Workforce Delivery at AgriFutures Australia, young people have the power to shape the future of rural industries.
"By harnessing the Horizon Scholars' innovative thinking and fresh perspectives, we can transform the narrative surrounding agriculture and secure a thriving and sustainable future for generations to come.
"In order to achieve this vision, the report calls on industry and decision makers to embrace innovation and diversity, understand that profit and purpose go hand in hand, and find inspiration outside of agriculture, and Australia," said Abbey.
Additionally, AgriFutures Australia recognises the importance of consulting with Horizon Scholars, the key group who contributed to building the report, when designing programs that impact young people and the future workforce of agriculture. Their unique experiences, aspirations, and knowledge position them as invaluable contributors to policy development and program design.
The report "Listen up: Young people's perspective on the future of Australian agriculture and rural industries" is now available on AgriFutures Australia's website.
AgriFutures Horizon Scholarship Industry Sponsors
Thank you to the following sponsors for investing in the future of Australian agriculture: Grains Research & Development Corporation (GRDC), Kalyx Australia, Marine Bioproducts Cooperative Research Centre (MBCRC), Baiada Poultry, Southern NSW Innovation Hub, Australian Eggs, Australian Wool Innovation (AWI), Dairy Australia, Meat & Livestock Australia (MLA), Hort Innovation, Cotton Research and Development Corporation (CRDC), AgriFutures evokeAG., Cooperative Research Centre for Developing Northern Australia (CRCNA), FMC Australasia and AgriProve.