A new report,  the Assessment of size and scope of the certified temperate pasture seeds industry, funded by AgriFutures Pasture Seeds Program, has examined data from across various organisations to provide a better understanding of the size and scope of the pasture seeds industry within Australia.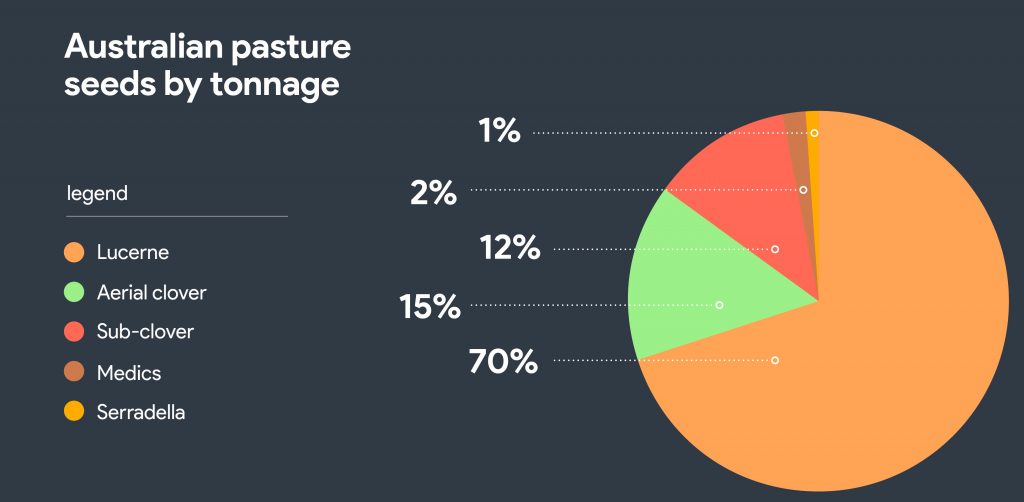 According to Lisa Anderson, Chair of AgriFutures Pasture Seeds Program Advisory Panel anecdotally the Advisory Panel has known, and had an appreciation, for the size of the industry but this has been limited to variety by variety.
"We now have industry-wide data that has helped us to obtain a clearer picture of the industry's size, scope, imports and our global exports over the last 10-20 years."
"Until now our understanding of the industry has been very high level. We knew the farm gate value of the industry was $44 million in 2019-20 but did not have any understanding of the breakdown based on species or by state. We now have a more comprehensive picture of the industry, and will be able to make informed decisions about the Program's research, development, and extension (RD&E) investments. And growers can capitalise on opportunities, particularly regarding state-based production, international markets, and our unique sub-clover seed."

AgriFutures Pasture Seeds Program aims to improve seed production, processing efficiencies, and profitability of certified temperate pasture species, including medics, lucerne, serradella, sub-clover and clover.
The Advisory Panel, led by industry growers, researchers and experts, recommended the collation and analysis of the data to provide a better understanding of the Australian pasture seeds industry.
"This report will inform the Pasture Seeds Program and the Advisory Panel, to ensure our strategies for RD&E are targeted and reflective of the industry," said Ms Anderson.
Research Program Manager, Annelies McGaw is excited by the report and the knowledge gained, particularly regarding global markets.