Student of the ocean relishes diverse experiences as Horizon Scholar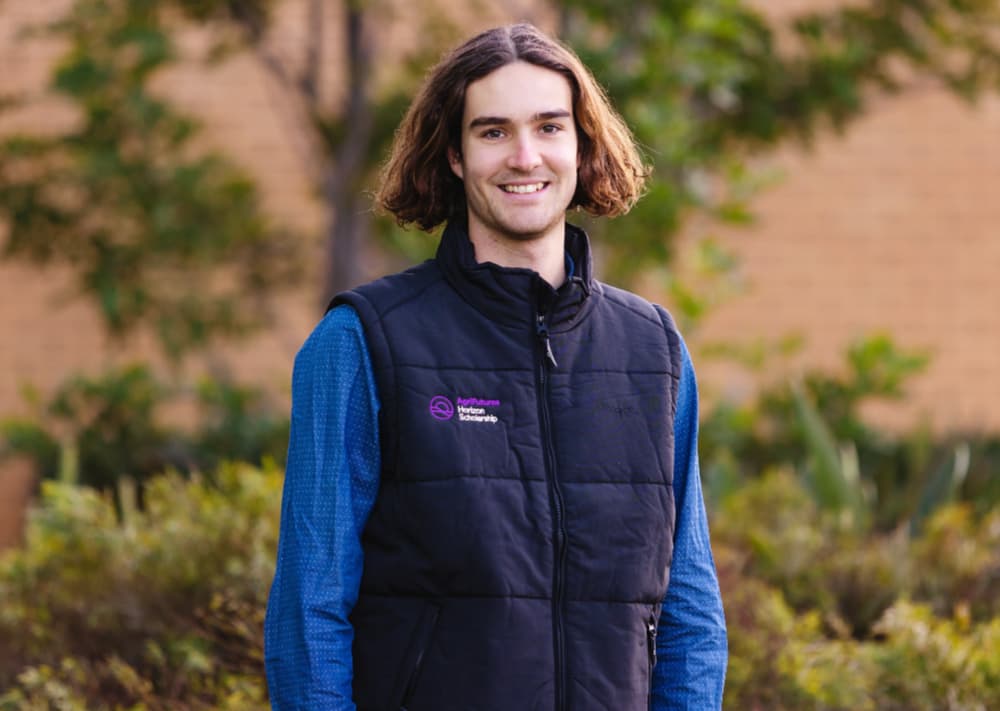 Growing up in the unique environment of Coffs Harbour with the ocean on his doorstep and a Marine Science Centre nearby, it's no surprise that Luke Austin developed a passion for aquaculture, innovation and stewardship.
Luke's high school was situated next to the beach, and he spent many hours learning about the ocean through snorkelling, surfing and fishing. These days he's a student at nearby Southern Cross University doing a Bachelor of Science degree, with a double major in Environmental and Marine Studies.
"Visiting SCU's Marine Science Centre when I was growing up made me realise that the thing you love doing could actually be something you could do for a job," said Luke.
"The development of sustainable and robust aquaculture industries was an interest that became a passion for me, and now it's my career."
After spending time as a volunteer in diverse roles, from data mapping of remote marine debris on Cape York, to membership of the Ministerial Advisory Board delivering policy advice to the NSW Government, and research assistant for the National Marine Science Centre's Reef Restoration and Adaption Program, Luke successfully applied to be a 2022 AgriFutures Horizon Scholar.
Visits to Japan, Tiwi Islands, Western Australia spark interest
Sponsored by the Cooperative Research Centre for Developing Northern Australia (CRCNA), Luke has already visited Japan to see the development of bioplastics from seaweed, and the Tiwi Islands off the Northern Territory for something different – the extraction of DNA from forestry species to help build a more profitable timber industry for the local First Nations people.
Next year he's looking forward to spending two weeks in Western Australia at the CRCNA's project to scale up production of asparagopsis, a red seaweed native to Australian waters that assists in reducing emissions from livestock.
"Asparagopsis contains a bromoform compound and when this is ingested by ruminant livestock, it blocks the pathways that create methane and reduces output by 80-98% in livestock," Luke explained.
"Australia is perfectly placed to be leading the game in this – we have tropical, sub-tropical and temperate ocean 'real estate' and a lot of livestock, and the industry is just starting to sell meat that has been produced in this way. Europe sold their first batch six months ago.
"Whether we like it or not, Australia and New Zealand are going to have to meet obligations for carbon and methane emissions and with asparagopsis, we're really well placed to do that."
Horizon Scholarship provides view 'through a different lens'
The Horizon Scholarship has enabled him to look at other industries 'through a different lens', Luke says. He counts himself lucky to be included in a delegation of students from Australia, Thailand and Kenya, invited by the Japanese government to see research into new catalytic processes of creating biofuels from plant oils and waste cooking oils.
"I was super interested in Japan's research into bacteria that can produce bioplastic material, where they take the DNA or code for protein production out and put it into a plant genome to actually create and harvest bioplastic at scale.
"The biggest advantage is that the bioplastic is actually biodegradable, back into organic matter. Some of the marine plants and bacteria can break down in six weeks, so it's an ideal short term use system."
The students worked alongside Japanese scientists exchanging skills and ideas and made a presentation to their universities afterwards.
Luke's first visit to the Northern Territory as part of the Horizon Scholar's industry placement gave him new insights into the forestry industry on Melville Island, which has exported woodchips since 2015.
The University of Melbourne is partnering with CRCNA and Tiwi Plantations in a project expected to double the export value of the Tiwi Islands forestry industry from $6 million to $12 million and develop a Northern Forestry Industry Growth model.
"The idea is to diversify from just producing woodchip to other materials like hardwood timbers. We collected a lot of DNA samples to look at wood size and timber properties from different aged plantations," said Luke.
"The project is a really nice example of emerging high-level science in genetics from the University of Melbourne mixed with traditional forestry techniques. Tiwi Plantations Corporation employs indigenous people so it will mean new options for economic development for the Tiwi community."
Encourage Horizon Scholars with 'background in healthcare'
The project fits into Luke's passion for stewardship, and finding innovative, less intensive ways to produce things that are 'a bit more circular' and sustainable.
"It's all about being stewards of the place where we are. Because we know a lot more than we ever have, we can put better processes in place that are sustainable, for example, we can apply different models to produce a particular product and then a by product," he said.
For a person who thought he wasn't qualified to be an AgriFutures Horizon Scholar, Luke has gained a lot of valuable knowledge, especially from the different perspectives of fellow Scholars.
"At our summit in Albury in July we had really measured discussions on environmental issues and what made it so interesting was that we had fifth generation farmers in the room with people who hadn't lived on a farm," he said.
He would strongly encourage anyone to apply for a Horizon Scholarship, and suggests there's more to be done to ensure diversity amongst the alumni.
"I think it's important to make sure that it's not just agricultural issues represented, and that we hear from people with slightly different perspectives. For rural industries the power is in the people, so I'd like to see a Horizon Scholar next year who has a background in health care or mental health or nursing," he said.
Applications are now open for the 2023 AgriFutures Horizon Scholarship and will close on Friday, 13 January 2023.