Words by Ali Gill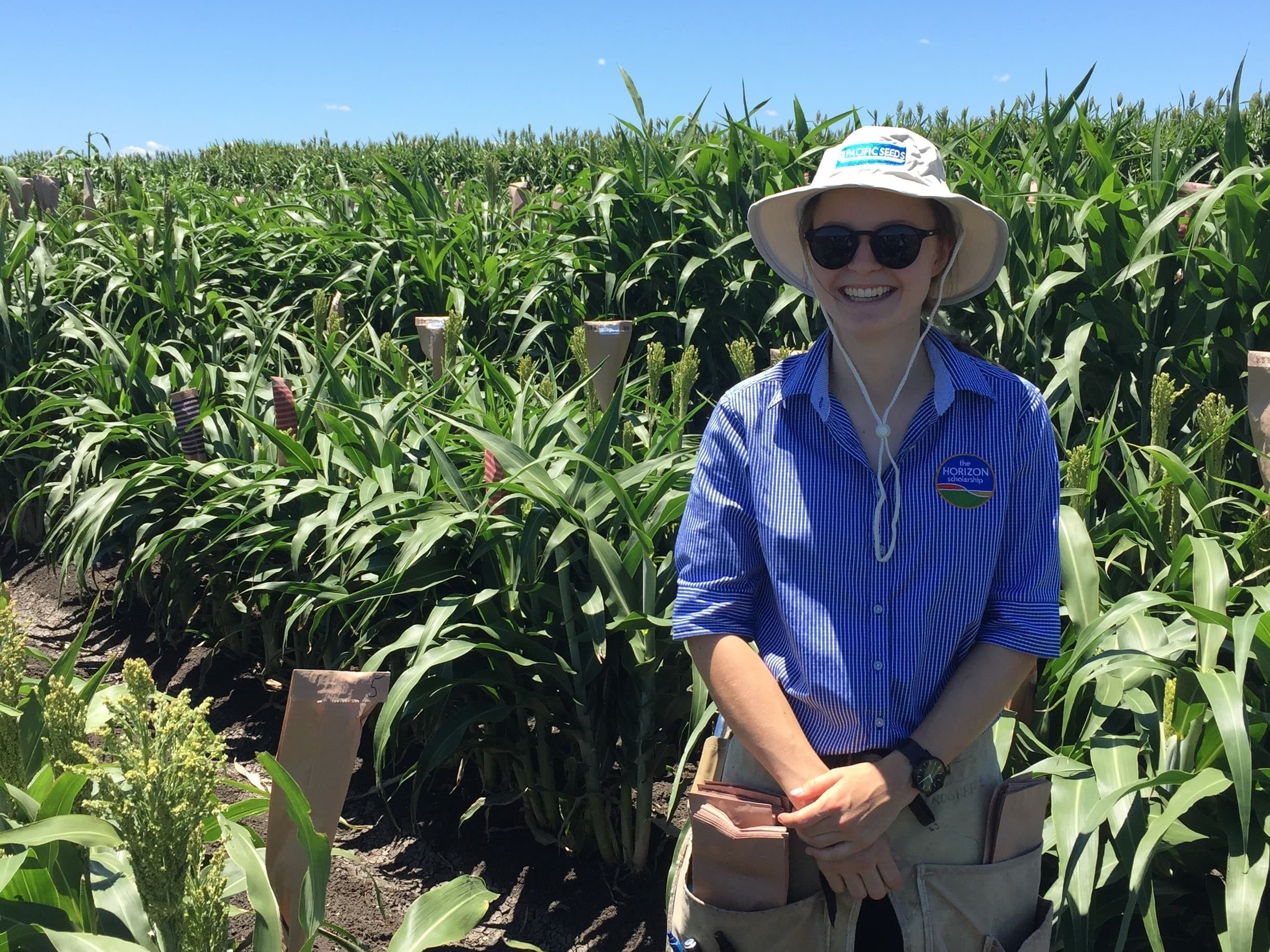 Ali Gill on Horizon placement at Advanta Seeds in Toowoomba
If someone had told me in Year 12 that seven years later I would be midway through a PhD in plant science, I would have laughed. My career aspirations leaving high school were broad and, at that stage, agriculture was not on the cards. Going into a Bachelor of Science (Advanced) at the University of Adelaide seemed like the best way to keep my options open. As part of this, I applied for the AgriFutures Horizon Scholarship Program early in my first year and was both incredibly honoured, but also very surprised, to be successful. Little did I know, the Horizon Scholarship would transform my career.
The Horizon Scholarship was pivotal in igniting my passion for plant science and agriculture. Unlike many of the other Scholars, I did not grow up on a farm, nor do I have relatives in agricultural careers. I had big ambitions to be a leader, but did not have much of an understanding of agriculture at the time. The yearly Horizon Workshops were not only an unparalleled opportunity for networking, but also exponentially increased my agricultural knowledge base. Coupled with two-week long industry placements each year, I quickly discovered a passion for plant science research. I was very lucky to undertake placements supported by the scholarship at the CSIRO Cotton Group in Canberra, Advanta Seeds in Toowoomba and SARDI in Adelaide. I strongly believe that research is a vital step in improving efficiency and sustainability in agriculture, and these placements inspired me to aim high.
After completing my Bachelor of Science (Advanced) with majors in Botany and Soil Science, I went straight into Honours in Plant Science at the University of Adelaide. Supervised by Professor Rachel Burton, I aimed to characterise the root morphology and root exudates of native, commercial species of saltbush. Saltbush as a species, can survive in extraordinarily high levels of soil salinity, and we proposed that the release of exudates from the roots may assist in this salinity tolerance. While Honours threw me in the deep end, I loved every minute, particularly finding new information that has never been published before. I originally had plans to find a job in the industry after my Honours year, but I quickly realised I wanted to continue on the research pathway and signed up for a PhD midway through the year.
I am now one and a half years into my PhD, and still enjoying the challenges that research brings. My project aims to determine the drought tolerance and water use efficiency of industrial hemp (Cannabis sativa). Hemp is an emerging industry that has thousands of applications from textiles to biofuels to hemp concrete. Hemp has been selectively bred to produce low concentrations of Δ9-tetrahydrocannabinol (THC) and therefore does not have psychoactive properties. It shows such potential to be a sustainable crop of the future. It is very exciting to be researching a plant that could be a game-changer for agriculture in Australia.