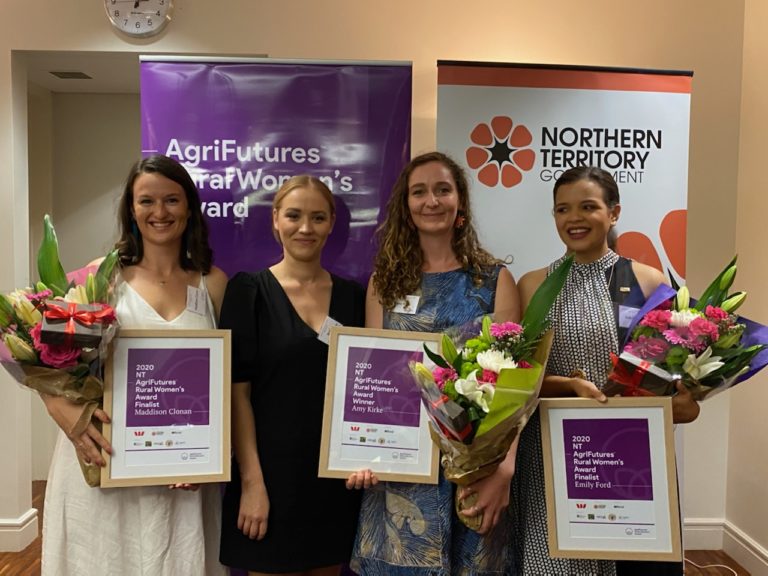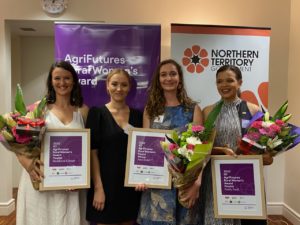 Left to right: Finalist Maddison Clonan, AgriFutures Australia Manager, Communications & Capacity Building Brooke Croft, Amy Kirke (2020 NT Winner) and Finalist Emily Ford.
The annual award celebrates the achievements of women from the Territory's rural communities and industries and provides a platform to inspire and support Territorian women in the rural sector.
Moving to Darwin to study for her PhD that focuses on commercially exploited sharks in the Northern Territory, Ms Kirke is passionate about sustainable industries and education with emphasis on supporting and uplifting women in her community.
Ms Kirke plans to use her $10,000 Westpac bursary on a project that will provide rural communities with much needed STEM (Science, Technology, Engineering and Mathematics) engagement through science workshops.
Recognising that industry and science communication and engagement rarely reach remote communities in the Northern Territory, Ms Kirke's project will aim to bolster scientific learning.
Together with industry, the project aims to create more channels for collaboration, innovation and education to sustain our resources into the future.
This year's other two finalists were:
Emily Ford (Darwin) a proud Rak Mak Mak Marranunggu woman from Kurrindju, she identified an opportunity to foster development, connection, and greater knowledge transmission between young people and local industries. Emily's project aims to facilitate the development of emerging workforces, through a communication program, sharing in-depth knowledge about industries from a range of relevant experts.