Horizon Scholars view: Tech doesn't have to be flashy to be effective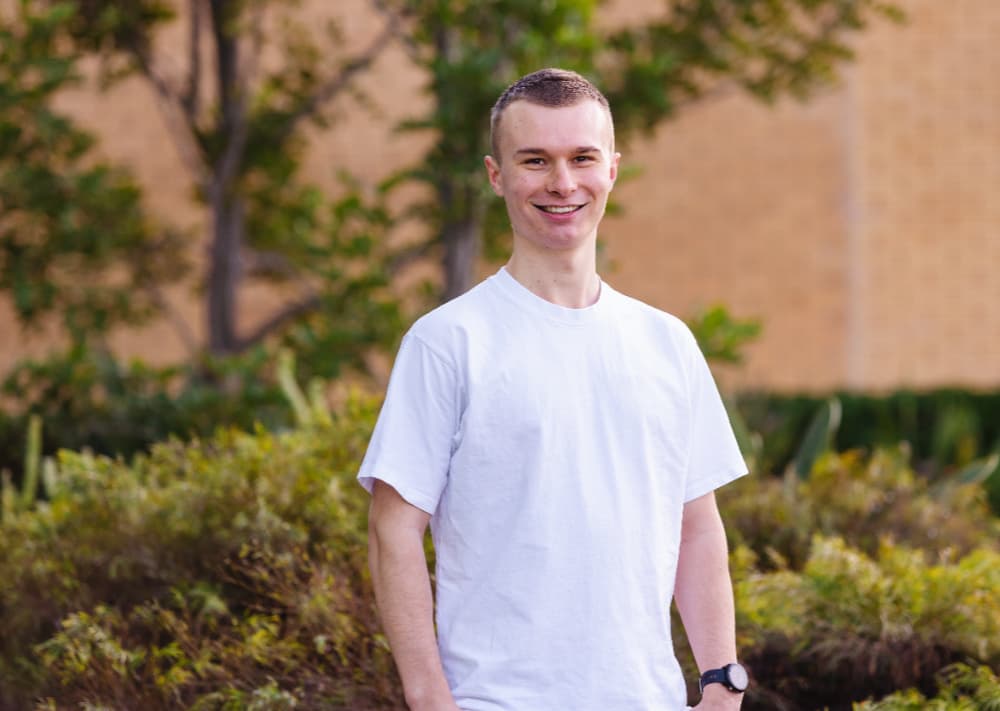 Tom McPherson relishes the sparks that fly when 40 Horizon Scholars are gathered in one room, especially when the current Scholars met recently in the regional NSW town of Albury for the annual Horizon Scholarship Workshop where they visited a couple of innovative agritech businesses.
"There are some brilliant ideas flowing when we get together because we all have a common goal of wanting to improve and make a difference in agriculture," Tom says.
"But our visit to v2food, a plant-based meat manufacturer, really challenged our thinking."
Having grown up in Sydney and now studying a Bachelor of Agricultural Science at The University of Sydney, Tom was familiar with plant-based meat and had tried it a few times. But some of his fellow Scholars who had been raised on beef or lamb properties had a different viewpoint.
"They were very hesitant and not really willing to accept it, so it was interesting to have my views challenged and see theirs challenged too. I still stand by plant-based meat, but I think transparency is required around things like sustainability credentials, for example, that we are beginning to demand from livestock enterprises.
"We also need to ask questions about whether it's more sustainable than producing beef because plant-based meat is resource intensive, so it was good to find the nuances there."
Building business gradually through good decisions
Tom is sponsored by the AgriFutures Agrifood Innovation Program. He learned another valuable lesson about innovation when the Horizon Scholars visited another Albury-based business, New Edge Microbials, which holds around 70% of market share in Australia.
New Edge produces biological products such as innoculants for legume crops, to help farmers fix nitrogen, improve phosphorus availability and boost plant productivity without using synthetic fertilisers.
"It really drove home to me that technology and innovation doesn't have to be flashy or complicated to be effective. I'm sure they have complex R&D but innoculants for legumes are not something you'd think of as innovation, they're just speeding up the natural process," Tom said.
"And New Edge has grown organically. While the business has skyrocketed in the last 20 years and their market share is massive, they haven't raised massive amounts of capital, just gradually built up the business through good decisions over time.
"It's an interesting example when we're seeing a lot of innovators currently raising money through venture capitalists and in big funding rounds. That's not the only path to success."
Working a gap year in the Northern Territory
Tom doesn't have a background in agriculture. As a high school student in Sydney, he chose agricultural science as an elective because he heard it was 'a bit of a bludge', but what Tom didn't realise was that it would change the course of the career ahead of him.
He found himself enjoying it, and when he decided to take a gap year after graduating, headed north to work on a 250,000ha cattle station in the Northern Territory.
"I hadn't had much exposure to large scale ag production systems, so it was a revelation working on 'Ucharonidge', a Consolidated Pastoral Company station next to Newcastle Waters on the Barkly Tableland," says Tom.
"The homestead was half an hour's drive from the front gate. It challenged my conception of rural and regional Australia and showed me that things like connectivity are critical to make large scale operations more efficient.
"And the frequency of conversations I had around mental health were way higher than I've ever had living in the city. They're so tuned into it. I'm really glad that I went through that."
He now works in accounts and business analytics for leading Australian agritech company, Farmbot Monitoring Solutions. It uses a unique IoT device that monitors water assets like troughs and tanks to provide near real time reporting on water levels, trends and alerts, anywhere in the world.
Adoption of ag tech requires clear value proposition
Innovation is important, Tom says, not only because it impacts on profitability.
"Listening to Farmbot customers in the last year or so, they're not just improving their financial situation, they're also gaining a lot of time that they can spend in other parts of the business or doing things they enjoy," he said.
However, he has a word of warning for tech innovators and solution providers.
"I think there's a lot of confusion amongst producers about technology and also a bit of snake oil, and any smart producer would be hesitant about adopting it without a very clear value proposition.
"While I think there's probably a bit of a correlation between producers who are early adopters and how profitable their systems are, I don't think it's the job of a producer to have to decrypt the value that they're going to get from a technology or an innovation solution."
How to encourage technology adoption
Tom suggests three ways to improve the situation:
Solution providers developing and continuing to improve the accessibility of their solution. They don't necessarily have to be simple, they can be complex solutions with meaningful insights, but they shouldn't be complicated and difficult to use. There are plenty of examples of tech providers coming up with a fantastic idea but not an amazing product;
Government should incentivise technology adoption, giving producers who aren't early adopters external incentives, financial or otherwise, to improve their systems through technology; and
Utilising the massive network of extension officers and agronomists to be better conduits for technology adoption, in situations where they think it's suitable or would benefit the producer.
Tom has another year of his AgriFutures Horizon Scholarship and admits he still has a lot to learn.
"Agriculture has some issues that probably have simple solutions but others that require pretty complex solutions. Being in a position where I have the privilege to soak up as much information as possible from those around me, even people you meet along the way at a conference, has been incredible and what I've enjoyed the most," he said.
"The people in the Horizon Scholarship Program, my peers, the people at AgriFutures that have been organising it, my sponsor, they've all been first class."
Applications are now open for the 2023 AgriFutures Horizon Scholarship and will close on Friday, 13 January 2023.