Murray cod: are you aware this is Australia's largest, native freshwater fish?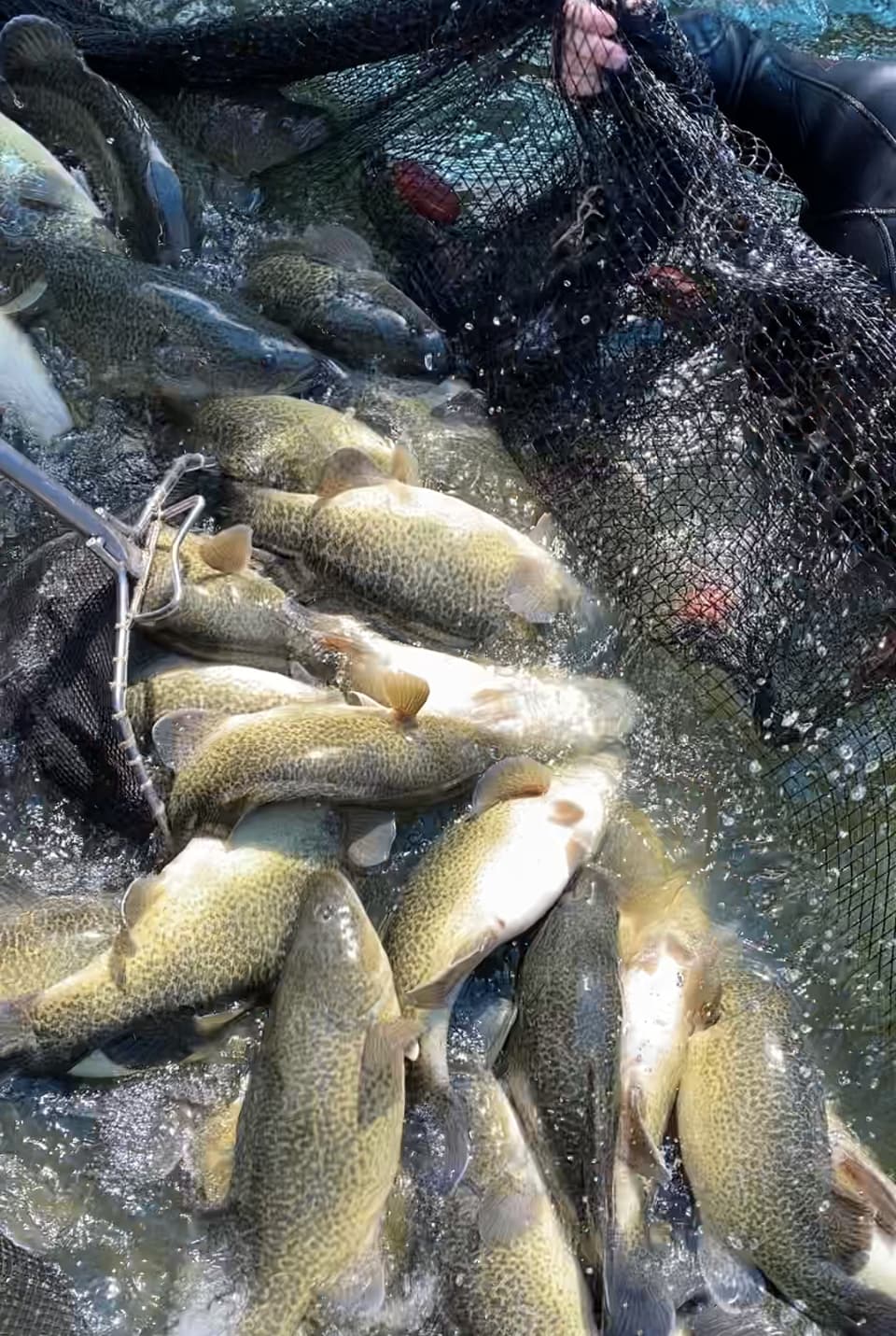 Murray cod is an iconic Australian fish species, prized by recreational fishers, Indigenous communities, and increasingly, seafood consumers. Following four months of stakeholder consultation during 2021, the burgeoning industry developed the Australian Murray Cod Strategic RD&E Plan (2022 – 2027). The Plan sets the ambitious target of being a $100 million industry by 2050, with its success founded on value over volume.
Aquaculture is growing – everywhere
Aquaculture is one of Australia's fastest-growing primary industry sectors, and globally, the Food and Agriculture Organisation projects production to increase by one-third by 2030 to reach 109 million tonnes. The forecast is that aquaculture will supply the majority of aquatic protein in people's diets by 2050.
Given the global and domestic unmet demand for a premium white flesh fish, Jo-Anne Ruscoe who led the development of the Australian Murray Cod Strategic RD&E Plan, says the Murray cod industry is well placed to take advantage of these opportunities.
"The development of this Plan comes at the right time for industry and provides the roadmap for investment in RD&E to support the growth of an exciting emerging industry in regional Australia," she says.
Finding new markets
Bruce Sambell, President of the Aquaculture Association of Queensland, says Murray cod, an Australian native, is a sleeping giant in terms of market potential.
"Murray cod grows quickly, which makes it economic to produce, it's good to eat and it's an iconic species so it should be well received by consumers," he says. "We envisage Murray cod could one day be like barramundi and sold on supermarket shelves."
For this to occur, he says consumer awareness and demand needs to improve, The Plan identifies that a comprehensive consumer study is needed to better understand perceptions of the taste and price of Murray cod compared with competing proteins, which are currently obstacles to market growth.
"Better product consistency will also help the overall growth of the industry," says Mr Sambell. This may be achieved through improvements to production systems, husbandry, and handling through the supply chain. Developing evidence-based best practice guidance for purging, taste-testing, chilling, handling and packing products will also enhance the industry's overall performance.
Strategies to increase productivity
Boosting productivity will be critical to reaching the $100 million mark by 2050. There are a range of ways industry could do this including through selective genetic breeding programs and the development and use of data collection tools to support business decision-making and performance.
With the risks of climate change-induced drought, algal blooms and nutrient management, knowledge and skills to manage water quality will be needed to ensure productivity, profitability and product quality. Similarly, it will be important to better understand fish health in terms of disease management and detection, health monitoring and pond-based water quality dynamics.
Addressing the supply of fingerlings will be critical as it is currently the biggest limitation to industry growth. For the industry to achieve its targets, government and other investment in fingerling supply is likely to be needed to address areas of market failure. The Plan identifies developing the business case for this investment as an early and high priority.
Social licence
Mr Sambell says it is in the industry's best interests to emphasise Australia's 'clean and green' credentials.
"Aquaculture producers in Australia are held to some of the strictest biosecurity regulations in the world," he says. "This puts our products in a much better position globally as it means we are less susceptible to foreign diseases and we are also environmentally responsible in that no discharge from aquaculture farms goes back into our freshwater waterways."
If the industry can build its reputation for producing sustainable, ethical and safe Australian seafood by demonstrating eco-sustainability, acceptable animal welfare practices, and minimal use of APVMA approved chemicals, it is hoped consumers will pay a premium for Murray cod products.
The time for investment is now
Jo-Anne Ruscoe concludes, "With the Plan completed and endorsed by industry, it's time to set up the mechanism to drive the research and development priorities along. The first step needs to be the financial support for an industry leadership group to get cracking on research project design, engagement with research providers, and matching these up with funding sources. This transition funding will set the industry up to achieve its great potential."
For more information on the Australian Murray Cod Strategic RD&E Plan, visit https://www.agrifutures.com.au/product/australian-murray-cod-strategic-rde-plan-2022-2027/