Plan Bee researcher profile: Emily Noordyke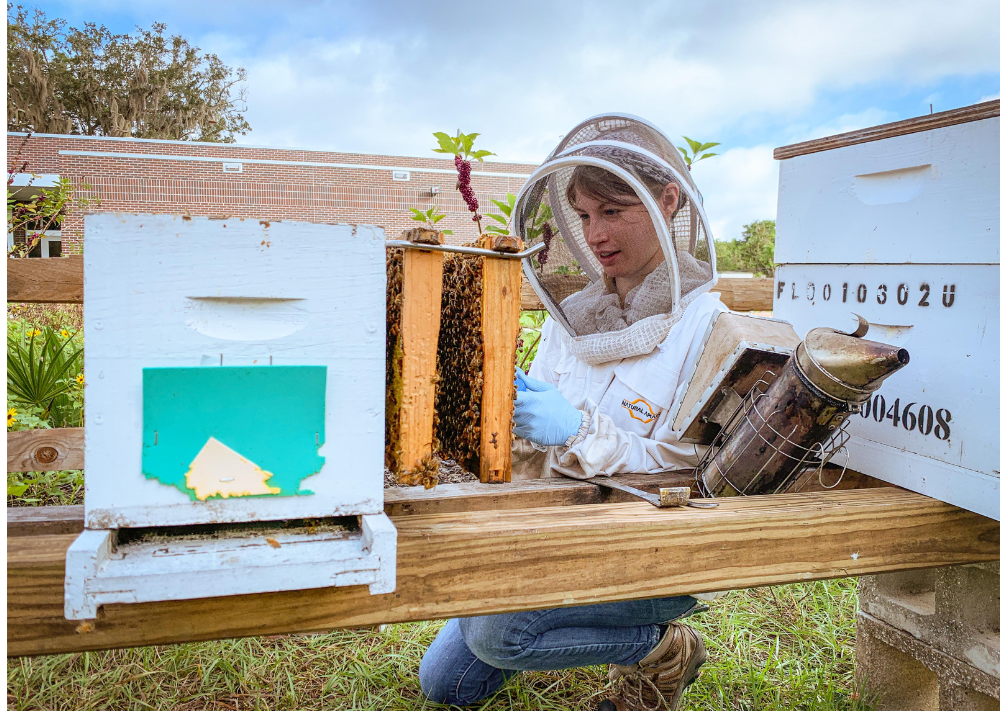 Plan Bee is a national genetic improvement program using innovative breeding technologies to transform the performance of honey bees in Australia. The project team are located throughout the country and are experts on everything from genetics, entomology and beekeeping practices.
As the nationwide program rolls out, we will be introducing key members of the team to understand more about the people driving this program forward.
In this researcher profile we introduce Emily Noordyke from the NSW Department of Primary Industries. Hailing from the United States, Emily is the newest addition to the nationwide Plan Bee team.
Emily joins the team fresh from the University of Florida, where she completed postgraduate studies in entomology and nematology before undertaking work in the fields of honey bee nutrition and behaviour.
Emily wasn't born into beekeeping but when she joined an amateur beekeeping club in her native Michigan it wasn't long before she was switching from her arts major to a biology major in order to chase a career in beekeeping.
The allure of beekeeping was hard to resist
After only scratching the surface of beekeeping and the limitless world of bees Emily knew immediately that this was something she was passionate about and a career that had real meaning.
That career led her to working for an organisation called the Bee Informed Partnership, in a role that saw her travelling across the United States collecting colony health data for commercial beekeepers.
With several years' experience working in the field, Emily was alerted to an opening within the Plan Bee program as a technical officer.
Emily's appointment is a critical hire for the program. She will be working closely with Liz Frost, who currently heads up the NSW DPI Plan Bee program. Her role will be an active breeder facing role where she will be on the road regularly meeting breeders, taking samples, inspecting hives and entering data collected into the national data base.
Having started at a particularly critical time with the varroa incursion, Emily is learning a lot about Australia's approach to biosecurity.
"Coming from the US, where varroa has been found since the 1980s, it's interesting to see the plans coming together to help mitigate and manage the incursion," Emily explains.
"It's also accelerated my interest in genetics, given that Plan Bee has the power to greatly improve the industry's potential to deal with incursions like this, through disease resistance."
Breeding quality key to program success
Emily is looking forward to working with breeders to help provide them with the skills and knowledge to breed their own quality queens and select for traits that are important to them, such as pest resistance.
For the Plan Bee program to be successful, we need to collect as much data as we can, and I'm looking forward to hearing from breeders across the country." Emily said.
Breeders who are interested in learning more about Plan Bee, or submitting data into the national database get in touch with Emily via LinkedIn
Plan Bee (National Honey Bee Genetic Improvement Program) is supported by funding from the Australian Government Department of Agriculture, Water and the Environment as part of its Rural Research and Development for Profit program. The project is further supported by AgriFutures Australia, the Department of Regional NSW, University of Sydney, University of New England Animal Genetics and Breeding Unit, Better Bees WA Inc, Wheen Bee Foundation, Costa Group, Olam, Beechworth Honey, Monson's Honey and Pollination, South Pacific Seeds, Australian Queen Bee Breeders Association, Australian Honey Bee Industry Council, and commercial beekeepers