A new framework demystifies agtech for agribusiness
2019 WA AgriFutures Rural Women's Award winner Belinda Lay and her project "Fitbits for Sheep" started her on an agtech journey that made it necessary to develop a knowledge framework that helps agribusinesses to better understand agtech and the use of data to make informed decisions.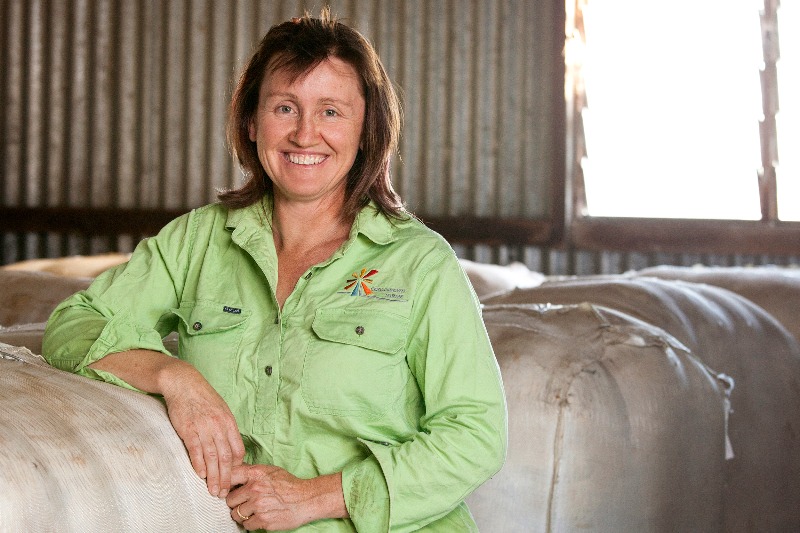 It was Belinda's use of sheep tracking collars to provide real-time data to address animal welfare, improve lamb survival rates and trial the implementation of novel technology for commercial farm management that led to her winning the  AgriFutures WARural Women's Award last year. The Esperance mixed grain and sheep farmer called the 18 months since then "a bit of a whirlwind!"
The Lay's family business, Coolindown Farms, was the first in Australia to use IoT (internet of things) devices to track animal welfare using the Sigfox network. The IoT devices use radio frequency to transmit data to a tower, which is then relayed to a phone. The sheep collars send a reading every 30 minutes, enabling Belinda to track the animals at any time of the day using her mobile phone.
Getting immersed in the world of agtech through the sheep collar project has been an eye-opening experience for Belinda and now she wants to help other primary producers by demystifying agtech and helping them to get the most out of their data.
"Being a Rural Women's Award state winner is a full-on experience. I launched myself in and have used it as an opportunity to network and meet so many great people. One of those was Wes Lawrence from AxisTech who I met at an industry event. We talked about some of the challenges I was facing getting the data from the sheep collars to work for me and he was really open and helpful," said Belinda.
"Together Wes and I have developed the 8 Pillars of Agtech framework and it's my opportunity to give something back to the industry."
The 8 Pillars of Agtech are installation, sensors, devices, connectivity, data ingestion, data storage, on-farm data consumption, and aggregated data consumption. By adopting this framework Belinda and Wes hope all sectors of agribusiness will be able to better understand how they can utilise and control their own data and confidently adopt agtech.
"The framework allows producers and other agribusinesses to assess their needs and the technology solutions available from the start of the process, or if they're already underway, the framework can provide tools for troubleshooting or further evolving their project.
"It makes it possible to put together a matrix so producers can assess each type of technology solution for easy comparison and get to a place where it can improve their operations, productivity and profitability," said Belinda.
"One of the other benefits to using the 8 Pillars of Agtech framework is the ability to communicate effectively with solution providers from within the agtech industry. Even businesses within agtech jump all over the place when discussing their products, most start with the device (pillar 3) then talk about the app or dashboard (pillar 7) then connectivity (pillar 4). The framework makes it a lot easier to identify which parts have been glossed over and where to get further clarification on how the solution works and if its suitable for my farm business"
Belinda and Wes will be presenting the 8 Pillars of Agtech framework in a series of workshops in Western Australia in 2021 and are partnering with likeminded people to introduce the framework to the rest of Australia.
---
Find out more about the 8 Pillars of Agtech
The 8 Pillars of Agtech is a framework developed by Belinda Lay from Coolindown Farms and Wes Lawrence from AxisTech to organise agtech knowledge and experience. It is designed to assist producers with discussion about, adoption of and confidence in agtech and the effective use of data in Australian farming businesses.
The 8 Pillars include:
Installation – identifying the problem to be solved, assessing its physical location and the environment where an agtech solution will live.
Sensors – understanding the component/s of the agtech solution that undertake the key measurements and how they work.
Devices – understanding how a device manages, powers and controls itself and its sensors and communication parts.
Connectivity – exploring the connectivity options (e.g. Bluetooth, WIFI, cellular and more) that best suit the solution and how they fit together.
Data ingestion – understanding how the data is handled and moved from one or more sources to a destination where it can be stored and analysed.
Data storage – managing data storage (e.g. through server, cloud, database, and more) and understanding where the data is, who holds it, who owns it, who has access to it and what it is being used for.
On-farm data consumption – understanding how the data is used (through applications, dashboards, solutions and more) and the layers of data required to help producers make informed decisions.
Aggregated data consumption – a new frontier that is emerging for data sharing, data hubs, grouped displays and consumption of data for benchmarking and traceability.
If you are interested in a 8 Pillars workshop in your area you can contact Belinda at www.coolindown.com.au/contact-us/
To find out more about the AgriFutures Rural Women's Award head to www.agrifutures.com.au/people-leadership/rural-womens-award